As we approach the start of another new year, one thing is for certain: We just can't predict what's coming next.

Just when we thought it was safe to move to some sense of normalcy after the pandemic, we are hit by yet another highly contagious variant. Helluva way to force us to learn the Greek alphabet.
Yet through all of this, we see some people who seem to be doing well–in spite of all this craziness. What's their secret?
Seems to me that these are the people who are able to roll with the punches. To look at what's put in front of them, assess the situation, then pivot to take the best possible steps. It may not be what they planned or even want–but it's what's needed.
Here's my prediction for 2022. Those who are able to be flexible and reinvent themselves, their businesses, and their personal lives will continue to do well. Those that are waiting for things to settle down–for the pandemic to be totally over, for life to return to "normal"–will struggle.
On the eve of New Year's Eve, I wish you a year of health, happiness, safety, and prosperity and the ability to approach the year with strength, courage, and the spirit of reinvention.
As the Rolling Stones so wisely said, "You can't always get what you want. But if you try, you just might get what you need."
See you next year!
Contact me to find out how you can get heard above the noise–even in a crisis situation.
Catch the latest episodes of the hottest podcast on business and entrepreneurship…ShrimpTank Seattle Wednesdays at noon PT.
---
Check out our marketing thought leadership podcasts and the video trailer for my book, Marketing Above the Noise: Achieve Strategic Advantage with Marketing that Matters.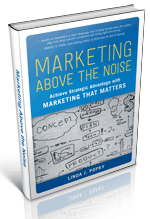 .
---
Let us help your business rise to the top.
linda@popky.com
(650) 281-4854
www.leverage2market.com