I don't know anyone anywhere who's saying, 2020 is so great–let's do it all over again!

A killer virus, economic depression, out of control wildfires, unprecedented hurricanes, nasty political maneuvers, massive unrest due to ongoing social justice issues–even killer locusts. Yikes.
Most people say they can't wait for the year to be over. I've got good news for you: Tomorrow is the last day of the year!
The year 5780, that is. According to the Jewish calendar, the new year 5781 starts at sundown tomorrow evening. I can't think of a better time to put aside everything we've endured for the past year and start again fresh.
You don't have to be Jewish to take advantage of this. Fall is a great time to start afresh. No reason to wait any longer. Just make the decision that you will look forward and create a great new year ahead–starting tomorrow night.
I wish you all a happy, healthy, prosperous, and safe year ahead.
(And if this doesn't work for a reset, we still have the traditional start of the new year in January, and Asian new year in February….)
Contact me to find out how you can get heard above the noise–even in a crisis situation.
---
Check out our marketing thought leadership podcasts and the video trailer for my book, Marketing Above the Noise: Achieve Strategic Advantage with Marketing that Matters.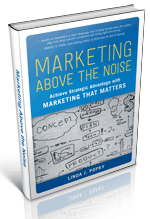 .
---
Let us help your business rise to the top.
linda@popky.com
(650) 281-4854
www.leverage2market.com