This week AT&T announced it was purchasing media giant Time Warner for more than $85 billion.

There was a time when it was pretty clear who was in what industry. The phone companies provided phone service, the cable networks provided content, and that was that.
But today, Comcast owns NBC Universal, Disney owns ABC, some of the most exciting new programming comes from Netflix and Amazon, and soon AT&T will own Time Warner, which includes both a cable provider and content providers (TNT, CNN, etc.).
Content and delivery channels are now intertwined, creating a whole new way to look at media.
How does this impact you? What long-held assumptions about your industry should you be challenging? Will you wait till your competitors leapfrog to a new business model, or will you answer the call sooner?
To subscribe, please click here.
Ready to take your marketing to the next level? Contact me to find out how to get heard above the noise
---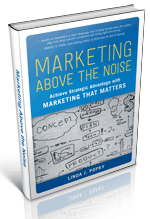 Check out the new video trailer for my book, Marketing Above the Noise: Achieve Strategic Advantage with Marketing that Matters.
---
Limited time to devote to marketing? Check out our weekly Just a Moment for Marketing videos. They only take a minute.
Let us help your business rise to the top.
linda@popky.com
(650) 281-4854
www.leverage2market.com