More than seven months after global aviation authorities grounded Boeing's 737 MAX jets because of safety concerns, the planes are still not back in the skies.

And it doesn't appear this will change soon. Airlines have canceled thousands of flights and reworked schedules to substitute other aircraft when possible. Meanwhile, it appears it will be sometime in 2020 before the plane is cleared to fly–and some countries may not ever clear it at all.
It now also appears Boeing was aware of concerns with the 737 MAX flight control system as early as 2016, when a test pilot complained of "egregious" problems when testing the system in a simulator. Why this concern was not considered and taken seriously is not yet clear.
This week, the company removed its head of commercial aviation, and it has stripped its CEO of the chairman title. These are symbolic moves. It will take much more significant changes to the company culture to restore faith in Boeing again.
This is not simply an issue of a new system that didn't behave as promised. It appears the process to design, build, and test one of the most complex products engineered on earth is broken–which leads us to wonder what else could possibly be wrong that we don't know about? And where were the FAA and the airlines in ensuring these aircraft were safe?
Let's hope that the lessons from this debacle are learned well by all involved. This is why there are checks and doublechecks and triplechecks built into the system. Ignoring them and flying blind doesn't help anyone.
How do you act in a climate of change? Read my article.
Join me for the free online video interview series The Inspired Leadership Show: Discovering Secrets to Being an Effective Leader Through Communication, Positive Influence and Sustainable Productivity. My episode is live NOW!
Contact me to find out how to get heard above the noise.
---
Check out our marketing thought leadership podcasts and the video trailer for my book, Marketing Above the Noise: Achieve Strategic Advantage with Marketing that Matters.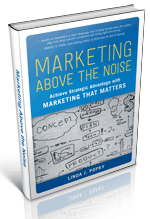 .
---
Let us help your business rise to the top.
linda@popky.com
(650) 281-4854
www.leverage2market.com