It started Sunday evening with a few sparks. High winds knocked down power poles, and the live wires sparked brush fires. Within a few hours, whole swatches of land were on fire.

Four days later, the firestorms in California's wine country continue to rage unchecked. More than 25 people are dead, over 3000 structures destroyed, nearly 200,000 acres burned, tens of thousands of people displaced, and whole towns evacuated.
Over 8000 firefighters are battling the worst fire in California history. The combination of ongoing high winds and low humidity, combined with very dry conditions, makes this an incredibly frustrating task for first responders.
In just an instant, a lifetime worth of possessions can be destroyed. Yet, the people who have escaped are thankful they escaped with their lives, and that their families are safe.
Thousands of others are on watch–waiting to see if they'll need to leave their homes. They, too, know that the possessions they leave behind can be replaced if necessary, but lives cannot.
The outpouring of response from the community to this latest in a string of disasters has been amazing. Belongings may have gone up in smoke, but concern for our fellow man remains strong. And once the fires are out, we will all rebound together.
Nearly 85% of Puerto Rico still does not have electricity. Help us get insulin coolers to diabetics in San Juan. Learn more.
To subscribe, please click here.
Contact me to find out how to get heard above the noise
---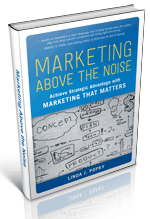 Check out the new video trailer for my book, Marketing Above the Noise: Achieve Strategic Advantage with Marketing that Matters.
---
Limited time to devote to marketing? Check out our weekly Just a Moment for Marketing videos. They only take a minute.
Let us help your business rise to the top.
linda@popky.com
(650) 281-4854
www.leverage2market.com