Tuesday's Presidential debate was a spectacle in itself.

Regardless of political inclinations, most people who watched the event seem to agree this event set new lows for political communications. The moderator lost control of the process early on and never was able to get things back on track. The evening was more about shouting at and over other speakers and less about civilized discourse.
The debate team is rushing to create a better process for the remaining debate sessions. Maybe they'll be able to craft a process that keeps things more under control moving forward, but, given the situation, that will be a serious challenge.
What happened on national TV Tuesday should be no surprise to anyone. From the beginning, this political campaign has been about name calling and accusations, posturing and innuendos, mudslinging and character assassination.
In a time when fighting a global medical crisis has become politicized, science has been belittled and ignored, and racism and bigotry have been encouraged, this kind of spectacle is to be expected.
The question is how long we will allow this to continue. We have serious issues to face–from a pandemic that has already killed hundreds of thousands of people, to climate conditions that are causing unprecedented fires, storms, and flooding, to social justice issues that continue to smolder.
There are plenty of valid topics on which political candidates can offer legitimate political view points. Maintaining civility and treating political opponents with respect and basic consideration should be the least we can do. Allowing ourselves to fall to a new low should not be up for debate.
Contact me to find out how you can get heard above the noise–even in a crisis situation.
---
Check out our marketing thought leadership podcasts and the video trailer for my book, Marketing Above the Noise: Achieve Strategic Advantage with Marketing that Matters.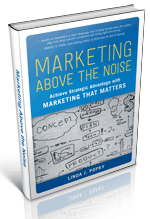 .
---
Let us help your business rise to the top.
linda@popky.com
(650) 281-4854
www.leverage2market.com