This week Charlie Rose, Matt Lauer and Garrison Keillor were added to the list of celebrities brought down by allegations of of sexual harassment. Congress is now considering mandatory sexual harassment training, as are many businesses.

Training is unlikely to help. This is not a case of teaching skills to employees–unless the skills are self-defense. Long-term tolerance of bad behavior regarding sexual harassment has allowed that behavior to spread like a virus, which is now difficult to contain.
How do companies handle other instances of bad behavior? Virtually no company on the planet condones employees embezzling large amounts of money, yet some may look the other way when employees pad expense accounts. The result: expense account padding happens regularly at those organizations. But it doesn't happen very often in those organizations who make it clear this behavior is unacceptable and will not be tolerated.
Similarly, the bad behavior that is now bringing down powerful men in America will continue until it is crystal clear that it will no longer be tolerated.
Here's my suggestion for a short 3 step training program on this topic:
If you would be upset if a member of your family were subjected to this type of behavior, then don't do it.
If you do it anyway, you will no longer be employed here.
There is no step 3.
We owe this to the people who work for us and with us. It's up to all of us to be clear on what we will and won't tolerate.
To subscribe, please click here.
Nearly 85% of Puerto Rico still does not have electricity. Help us get insulin coolers to diabetics in San Juan. Learn more.
Contact me to find out how to get heard above the noise
---
Limited time to devote to marketing? Check out our weekly Just a Moment for Marketing videos. They only take a minute.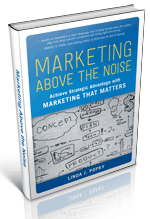 Check out the new video trailer for my book, Marketing Above the Noise: Achieve Strategic Advantage with Marketing that Matters.
---
Let us help your business rise to the top.
linda@popky.com
(650) 281-4854
www.leverage2market.com