Thanksgiving Day. The day when we eat a big festive turkey meal, watch parades and football games, plan our holiday shopping strategy, engage in spirited family discussions, and, hopefully, express our gratitude for what we have.

Gratitude is a great thing, but wouldn't it be nice if it extended beyond a single day of feasting? Wouldn't it be nice if we were grateful for more than just a big family meal and great Black Friday deals?
While we sit at home feasting, refugees from dozens of countries around the world are scrambling to find a safe place to live.
While we argue about American politics, protesters in Hong Kong are risking their wellbeing to try and maintain their slice of democracy.
While we watch sports and movies, homeless people in our own cities are trying to figure out how to stay warm and dry as winter weather approaches.
We need to be grateful not only for what we have, but for what we DON'T have to endure. And that gratitude should be expressed in concrete ways not just on the fourth Thursday in November, but every day.
Are you extending gratitude where it counts?
How do you act in a climate of change? Read my article.
Join me for the free online video interview series The Inspired Leadership Show: Discovering Secrets to Being an Effective Leader Through Communication, Positive Influence and Sustainable Productivity. My episode is live NOW!
Contact me to find out how to get heard above the noise.
---
Check out our marketing thought leadership podcasts and the video trailer for my book, Marketing Above the Noise: Achieve Strategic Advantage with Marketing that Matters.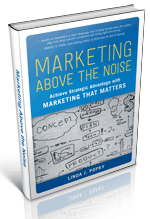 .
---
Let us help your business rise to the top.
linda@popky.com
(650) 281-4854
www.leverage2market.com