Today is Thanksgiving in the United States, a day when we take time out of our busy lives to stop and give thanks.

Most of us have families and friends to be thankful for–but there are some who do not. Most of us have roofs over our heads and the ability to put a full dinner on the table–yet there are those who do not. Most of us can be grateful for health and well being–as we remember there are many who struggle with illness and misfortune.
We can be grateful that America has always been a place where people could come to pursue their dreams–while understanding those opportunities are still not equally available to all.
We can be grateful that although we may argue and disagree with those around us, we live in a society that protects basic freedoms, including freedom of the press and freedom of speech.
On this Thanksgiving, let's be grateful for how great America is today, for the ability to learn from our mistakes, and for the dream that we can continue to grow stronger together.
To subscribe, please click here.
Ready to take your marketing to the next level? Contact me to find out how to get heard above the noise
---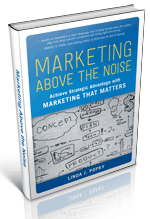 Check out the new video trailer for my book, Marketing Above the Noise: Achieve Strategic Advantage with Marketing that Matters.
---
Limited time to devote to marketing? Check out our weekly Just a Moment for Marketing videos. They only take a minute.
Let us help your business rise to the top.
linda@popky.com
(650) 281-4854
www.leverage2market.com