I've always found it ironic that Americans follow a day of giving thanks with a rush to beat their neighbors to the best possible deals at the mall–even when this means hurting others to get to those limited quantity items first.

It's as if we've checked off the requirement to be thankful. Next on the list is to be aggressive when it comes to Black Friday specials, followed by outmaneuvering fellow shoppers to get the last available parking space for miles.
That's what I find wrong with designating a single day to give thanks, or a "season" for goodwill. Why can't we be thankful all year long? Why don't we have goodwill to others every month and not just in December?
This year, in particular, has been one of incivility and downright rudeness–from the impasse amongst leaders in Washington to inappropriate behavior in Hollywood, business, and beyond.  Given the toll it's taken on all of us, how about we try something different moving forward.
What if we thank people who enrich our lives, whether family members or business associates, on a regular basis?
What if we treat the people with whom we work with respect–regardless of their gender, race, religion, or national origin–every day of the year?
What if we look for ways to make a difference in other's lives–twelve months of the year?
Maybe then we will create the kind of difference we can all be thankful for.
To subscribe, please click here.
Nearly 85% of Puerto Rico still does not have electricity. Help us get insulin coolers to diabetics in San Juan. Learn more.
Contact me to find out how to get heard above the noise
---
Limited time to devote to marketing? Check out our weekly Just a Moment for Marketing videos. They only take a minute.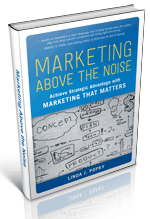 Check out the new video trailer for my book, Marketing Above the Noise: Achieve Strategic Advantage with Marketing that Matters.
---
Let us help your business rise to the top.
linda@popky.com
(650) 281-4854
www.leverage2market.com