Each year in the US, on the fourth Thursday in November, we celebrate Thanksgiving–a day to watch parades and football games, eat turkey, and plot Black Friday shopping strategies.

And it's also a day to give thanks.
The gratitude piece often seems to be lost in the commercialization of the holiday. We hear the same platitudes year after year. My email is full of messages from organizations who are very thankful to be involved with me–because I buy things from them or support their cause.
That's nice, but this year it doesn't seem like enough. Less than 20o miles north of me, there are thousands of people spending Thanksgiving in shelters or evacuations because they've lost their homes and their livelihoods. A thousand miles to the south, there are migrant refugees who are willing to trek across a continent, risking imprisonment and perhaps death, to leave terrible conditions and start a new life in a place we call home.
This year's list of what to be thankful for is a bit different.
We are grateful for our health and well-being.
We are grateful to not be refugees or asylum seekers.
We are grateful to live in a democracy with multiple freedoms, including freedom of the press.
We are grateful for the ability to participate in a free election process.
We are grateful for the technology that keeps us informed and often saves our lives.
We are grateful for a strong economy, and a support system for those who are not thriving.
We are grateful for advances in health care, and for the ability to get health insurance so we can avail ourselves of these treatments.
We are grateful for the first responders who risk their lives to help others survive.
We are grateful for the second responders who take on the difficult job of search and recovery after emergency situations.
We are grateful for everyone who opens their hearts and their wallets to help those who are in need.
We are grateful to have roofs over our heads and food on our tables.
And, in northern California, we are grateful that for the first time in months, yesterday we had a good rainfall, leaving the air clear and the sky blue.
This year, I wish you a holiday season full of peace, wellbeing, and a sense of gratitude for all that we have. And a good size portion of turkey and pumpkin pie, too.
Contact me to find out how to get heard above the noise.
---
Limited time to devote to marketing? Check out our weekly Just a Moment for Marketing videos. They only take a minute.Check out our marketing thought leadership podcasts.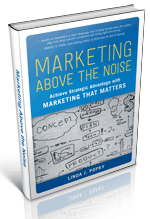 Check out the new video trailer for my book, Marketing Above the Noise: Achieve Strategic Advantage with Marketing that Matters.
---
Let us help your business rise to the top.
linda@popky.com
(650) 281-4854
www.leverage2market.com