Republican Donald Trump stunned the nation and the world by winning the US presidency on Tuesday.

It's still taking time for many Americans to process this result, especially since Hillary 
Clinton narrowly captured the popular vote – meaning less than half of all voters chose 
Trump in one of the most contentious contests in more than a century.
It's important that as business people we continue to move forward, regardless of whether or not you approve of the candidate who won. We need to heal the 
divisiveness and polarization of the last year, maintaining a sense of respect and justice. 
We need to continue to do the right thing – for our employees, customers, and 
communities.
And we need to focus on maintaining the spirit of entrepreneurship, innovation, and opportunity that has made America great for well over 200 years. We need to keep 
moving forward.
To subscribe, please click here.
Ready to take your marketing to the next level? Contact me to find out how to get heard above the noise
---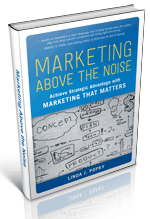 Check out the new video trailer for my book, Marketing Above the Noise: Achieve Strategic Advantage with Marketing that Matters.
---
Limited time to devote to marketing? Check out our weekly Just a Moment for Marketing videos. They only take a minute.
Let us help your business rise to the top.
linda@popky.com
(650) 281-4854
www.leverage2market.com