Sales reps sometimes have a tendency to sell a customer the solution they think the customer wants–regardless of whether that's exactly what can be delivered and installed.

The disconnect between expectations and reality can get businesses into trouble. It's easy to sell the promise of what can be. It's not as easy to implement something that fulfills that promise in the light of day and on an ongoing basis.
Be careful not to set expectations you can't deliver. Instead of being happy with something that isn't exactly what they had been dreaming about, your customers are likely to be quite disappointed.
The sales process moves quickly, but you'll live with what's really installed for a long, long time.
To subscribe, please click here.
---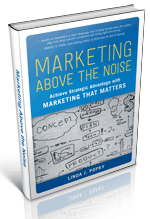 My new book, Marketing Above the Noise: Achieve Strategic Advantage with Marketing that Matters, is now available.
---
Let us help your business rise to the top.
linda@popky.com
(650) 281-4854
www.leverage2market.com