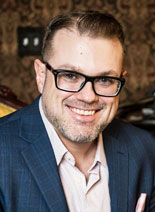 Justin Foster
Sales & Marketing Consultant and Author
www.fosterthinking.com
@fosterthinking
Justin Foster has over two decades experience in sales and marketing for small businesses and large corporations. He's cofounded two marketing/branding firms and a successful start-up, and he's worked with the leadership teams of hundreds of organizations to help make their culture the number one differentiator in the modern economy. He's the author of two books on branding: Oatmeal v. Bacon: How to Differentiate in a Generic World and Human Bacon: A Man's Guide to Creating an Awesome Personal Brand.
In this podcast, Justin discusses how to find our internal "bacon" that makes us naturally interesting. He also talks about the five natural forces that shape a brand and explains why a successful brand needs to start with leaders articulating their core values.
---

Listen to this podcast.
---