By now, more than 143 million people have watched the quick video Candace Payne made of her new Chewbacca mask.


If you haven't seen it yet,  go check it out. This mother of two, while sitting in her car, unboxes the new mask she just bought at Kohls, puts it on, makes it growl, and then just laughs and laughs. Then she tells us this mask is for her–not for her kids!
Kohls quickly realized the value of the publicity and gave Candace masks  for the whole family and more toys for the kids, as well as gift cards for back to school shopping. Candace has met with Facebook's Mark Zuckerberg and she's now booked on late night TV.
Why did such a simple video go totally viral? Probably because with all the conflict and nastiness in the world, it's so much fun to see the simple joy of someone having fun and laughing. Talk about the power of the force!
To subscribe, please click here.
Are You Sabotaging Your Marketing Efforts? Read my new article on the 5 signs of sabotage you'll want to avoid at all costs.
---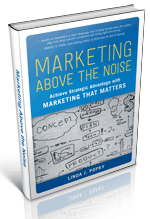 Check out the new video trailer for my book, Marketing Above the Noise: Achieve Strategic Advantage with Marketing that Matters.
---
Limited time to devote to marketing? Check out our weekly Just a Moment for Marketing videos. They only take a minute.
Let us help your business rise to the top.
linda@popky.com
(650) 281-4854
www.leverage2market.com