Last weekend, the attention of much of the world was focused on Windsor, England, where Britain's Prince Harry wed American actress Meghan Markle in a much-anticipated televised extravaganza.


The Harry-Meghan romance has captured the hearts and minds of people on both sides of the Atlantic. An heir to the British throne marrying a divorced American actress who is actually several years older than him. Reminders of the short and tragic life of Harry's mother, Princess Diana. A ceremony that mixed British royal tradition with touches of Meghan's bi-racial American heritage.
A descendant of slaves marrying the descendant of the monarch who may have once sold her ancestors into slavery? The Royal Family appears to have accepted Meghan whole-heartedly into their fold–regardless of her heritage.
Yet, on this side of the pond, England's former colony is still struggling with how to handle those same descendants of slaves. While Meghan marries into royalty, Blacks in America are subject to interrogation and arrest for waiting in Starbucks, shopping in Nordstroms, renting an AirBnB, and even sleeping in their own Yale college dormitory.
What's wrong with this picture? Maybe it's time we took a cue from our former colonizers and start accepting people for who they are, rather than focus on the color of their skin, religion, sexual preference, or ethnic background. If the Queen of England can do it, why can't we?
Contact me
to find out how to get heard above the noise.
---
Limited time to devote to marketing? Check out our weekly Just a Moment for Marketing videos. They only take a minute.
Check out our marketing thought leadership podcasts.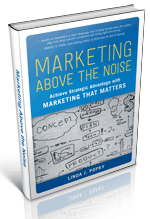 Check out the new video trailer for my book, Marketing Above the Noise: Achieve Strategic Advantage with Marketing that Matters.
---
Let us help your business rise to the top.
linda@popky.com
(650) 281-4854
www.leverage2market.com