Picture this. You make a reservation for a rental car on a Hawaiian island from a major car rental firm. When you arrive on time at the rental car area, you wait not one but two full hours to get through the line to get your car. And you've paid in advance, too.


Budget knew how many people had reservations that day and when their flights were due. Why didn't they staff their operation properly? The few agents who were there made token gestures, which did nothing to soothe the frustrated crowd. People with health conditions standing in the line were feeling the effects. Everyone else was beyond frustrated.
There are times when travel delays are unavoidable–weather is an ongoing issue, as are mechanical problems or other airline-related delays. But what is the excuse when none of these things happen?
X number of reservations should automatically translate into Y personnel on staff to serve customers. Plain and simple. One-quarter Y or one-fifth Y = one full mess. If this was an effort to save money, it backfired. We found out this happens with Budget on a regular basis.
Customers don't like change, which means companies can mess up a little and still be forgiven. But in a case like this where other choices are available with low to no switching costs, it's a good bet many of those affected will no longer come back to Budget. Unhappy customers tell 10 times as many people as happy ones do. What part of this is not clear?
There's no excuse for this to happen–to Budget's customers, or to yours.
Join me for the free online video interview series The Inspired Leadership Show: Discovering Secrets to Being an Effective Leader Through Communication, Positive Influence and Sustainable Productivity, starting next Wednesday, March 13th.
Contact me to find out how to get heard above the noise.
---
Limited time to devote to marketing? Check out our weekly Just a Moment for Marketing videos. They only take a minute.
Check out our marketing thought leadership podcasts.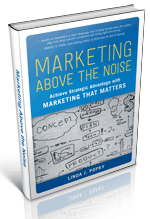 Check out the new video trailer for my book, Marketing Above the Noise: Achieve Strategic Advantage with Marketing that Matters.
---
Let us help your business rise to the top.
linda@popky.com
(650) 281-4854
www.leverage2market.com