On March 11th, the NBA's league-leading Golden State Warriors arrived in San Antonio to play the second-best Spurs, having lost 5 of their last 7 games.

Instead of pushing his team to play their hardest against a strong competitor, Coach Steve Kerr did something highly unorthodox. He benched all of his top players, leaving the game to the reserves–in spite of the fact that this was a nationally televised event.
The network and the league may have been frustrated, but the Warriors were re-energized.They lost that night, to no one's surprise, but the team hasn't lost since, winning 9 games in a row–including last night's rematch against those same San Antonio Spurs.
What happened? Kerr changed the game. Instead of driving a tired and injured team to push their hardest in a contest they were unlikely to win, he gave the team permission to think differently–to take that game off their must win list and focus on longer-term goals.
What do you do when your team is in a situation where they aren't likely to prevail? Do you try to push hard through near-certain futility? Or, can you find a way to score bigger by not playing the game?
To subscribe, please click here.
Contact me to find out how to get heard above the noise
---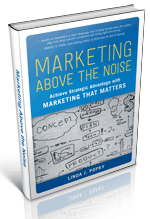 Check out the new video trailer for my book, Marketing Above the Noise: Achieve Strategic Advantage with Marketing that Matters.
---
Limited time to devote to marketing? Check out our weekly Just a Moment for Marketing videos. They only take a minute.
Let us help your business rise to the top.
linda@popky.com
(650) 281-4854
www.leverage2market.com