Last week I had the privilege to speak alongside a set of world-class presenters–including top management thinker Marshall Goldsmith–at Alan Weiss' Million Dollar Consulting Convention.


Two things struck me about Marshall. First, he is down-to-earth and genuinely interested in sharing his insights so he can help others. Second, although he is hired at a premium price to coach top CEOS, he feels that he himself still needs a coach.
Marshall says there are three delusions from which we all suffer:
I can objectively evaluate my own behavior.
I have the willpower I need to do this on my own.
I don't need help to achieve my goals.
That's why he has someone contact him every morning for a short coaching session.
If one of the world's top coaches isn't afraid to ask for help, what about the rest of us?
To subscribe, please click here.
---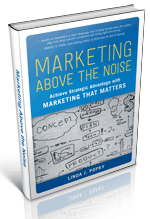 Check out the new video trailer for my book, Marketing Above the Noise: Achieve Strategic Advantage with Marketing that Matters.
---
Limited time to devote to marketing? Check out our weekly Just a Moment for Marketing videos. They only take a minute.
Let us help your business rise to the top.
linda@popky.com
(650) 281-4854
www.leverage2market.com