The coronavirus health crisis has expanded dramatically over the last several days.

Gatherings of more than 250 people are prohibited in many US cities. Travel between the US and Europe has been banned. The NCAA March Madness will be played before empty arenas, and the remainder of the NBA season has been suspended. Italy is under lockdown and Ireland has even canceled St. Patrick's Day parades.
In this environment, there have been two extreme responses. One is to panic and buy every roll of toilet paper, case of bottled water, or package of spaghetti in sight. This opens the way for con artists to take advantage of a panicked public and charge exorbitant prices for hand sanitizer, or, worse yet, peddle fake cures.
The other extreme is to discount the situation as just a lot of hype–to blatantly ignore the warnings and directives of health departments and government agencies to cancel events or stay away from public places where exposure is likely to occur.
Rudy Golbert of the Utah Jazz basketball team publicly scoffed at the NBA's plan to hold events in empty arenas. He mocked the league position and made a point of touching every microphone he could reach in a recent press conference. Last night, Golbert tested positive for the virus, resulting in not only the cancellation of that evening's game, but the NBA deciding to suspend the entire season for the whole league.
We don't know yet how this will all play out, but the truth will likely be somewhere in between panic and blatant disregard for the advice of experts.
We can't put our heads in the sand and hope this all blows over quickly. It's time to come up with a reasonable plan to deal with a situation that is not going to go away any time soon. When the rubber meets the road, that's what your customers are counting on.
Contact me to find out how you can get heard above the noise – even in a crisis situation.
---
Check out our marketing thought leadership podcasts and the video trailer for my book, Marketing Above the Noise: Achieve Strategic Advantage with Marketing that Matters.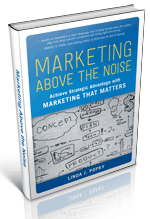 .
---
Let us help your business rise to the top.
linda@popky.com
(650) 281-4854
www.leverage2market.com