This week I used Airbnb to reserve a week's stay in April at a lovely one bedroom flat…in Kyiv, Ukraine.

Doesn't sound like the best place to be headed for vacation right now, does it?
Well, I don't intend to ever actually go there. Instead, this is a way to get funds to people on the ground in Kyiv who need all the help they can get.
I went to the Airbnb site (they are waiving their fees for booking in Ukraine now), and found a listing that appeared to be run by an individual, not a company. Sure enough, after I booked this and confirmed I didn't expect to actually visit, the host responded back, thanking me and telling me she was donating the money to the Ukrainian army: "It's very difficult for us right now. But we will win this war. Putin Killer will answer to God for everything."
This is just one of the creative ways people are helping those under attack in Ukraine. Many groups are focusing on supporting the refugees pouring into neighboring countries like Moldova, Poland, and Romania. Others are raising money through benefits for the Ukrainian people.
We often focus on the evils of technology–how social media harms young girls' esteem, how too much screen time can disrupt our lives. But technology also allows us to do things we never thought possible even a few years ago: We can stream video globally in real time–so no one can deny what's really going on. We can connect with friends and family around the world.
And we can arrange a virtual stay at an Airbnb in Kyiv and know the host will get paid–regardless of whether or not the building is still standing: Virtually, the best vacation I never intended to take.
Contact me to find out how you can get heard above the noise–even in a crisis situation.
Catch the latest episodes of the hottest podcast on business and entrepreneurship…ShrimpTank Seattle Wednesdays at noon PT.
---
Check out our marketing thought leadership podcasts and the video trailer for my book, Marketing Above the Noise: Achieve Strategic Advantage with Marketing that Matters.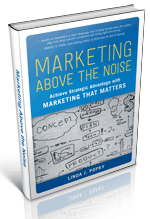 .
---
Let us help your business rise to the top.
linda@popky.com
(650) 281-4854
www.leverage2market.com