Last week in New York, I had the opportunity to take a tour of public art in midtown Manhattan.


The tour guide was a local artist who was passionate about the art and architecture of New York City. He took us all around the Palace Hotel, St. Patrick's Cathedral, and Rockefeller Center.
He told us the history of each site, and showed us how the art reflected not just the sensibilities of the builders, but also the atmosphere of the times.
St. Patrick's was built of different materials–because the supporters ran out of money and needed to cut costs. Rockefeller Center was built during the Depression, and used materials that kept workers employed, as well as symbolizing a more positive future ahead.
Most people would never notice these details…but once they've been pointed out to you, it's hard to look at those buildings the same way.
What can you do to get a new perspective on your surroundings?
To subscribe, please click here.
---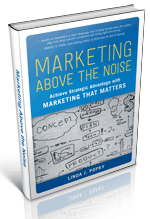 Check out the new video trailer for my book, Marketing Above the Noise: Achieve Strategic Advantage with Marketing that Matters.
---
Limited time to devote to marketing? Check out our weekly Just a Moment for Marketing videos. They only take a minute.
Let us help your business rise to the top.
linda@popky.com
(650) 281-4854
www.leverage2market.com