I'm in New York City this week for a set of business meetings.


Yesterday, a few of us went in search of a quick place for lunch. We found a little place called Roast that was quite crowded but had a real energy associated with it.
The line was long, but it kept moving. It was apparent there was a process that made things happen efficiently. Someone took our order, we moved along the line and when we got to the front, they had the basics of our lunch together. We had the opportunity to customize our lunch bowls, and to watch the meals being made.
It was fairly quick, the food was fresh and tasty, the prices were reasonable–and, most of all, it was fun.
If Roast can do this with a lunch bowl, how can you make your customers experience with you more engaging, memorable, and most of all, fun?
To subscribe, please click here.
---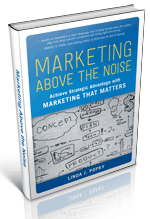 Check out the new video trailer for my book, Marketing Above the Noise: Achieve Strategic Advantage with Marketing that Matters.
---
Limited time to devote to marketing? Check out our weekly Just a Moment for Marketing videos. They only take a minute.
Let us help your business rise to the top.
linda@popky.com
(650) 281-4854
www.leverage2market.com