The new action movie Black Panther is setting all kinds of box office records, capturing over $400 million in revenue in its first two weekends.

If you haven't seen the movie yet, it's based on a Marvel comic book character with one big difference: he's Black. Not only that, but Wakanda, the African country he represents, is so technologically advanced that they have to hide their strengths from the rest of the world. His kingdom is protected by Amazon women without a gun in sight.
I won't spoil the movie for you (0bviously there is evil to conquer and bad guys to beat back), except to say that it brings a message of hope, promise, and inspiration. It's a message that resonates regardless of your race, background, or national origin.
In an age when the news is full of mass shootings, kidnappings, genocide, and allegations of government corruption, it's a refreshing change to see a new kind of superhero–one who arrives just in time.
To subscribe, please click here.
Contact me to find out how to get heard above the noise.
---
Limited time to devote to marketing? Check out our weekly Just a Moment for Marketing videos. They only take a minute.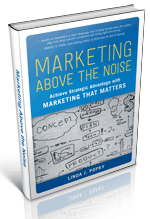 Check out the new video trailer for my book, Marketing Above the Noise: Achieve Strategic Advantage with Marketing that Matters.
---
Let us help your business rise to the top.
linda@popky.com
(650) 281-4854
www.leverage2market.com