It was ten years ago today that Apple released a product that would change the lives of hundreds of millions of people worldwide.

The first iPhone began shipping in the US on June 29 2007. It combined the music features of an iPod and outstanding mobile phone functionality with breakthrough Internet capabilities–all in one sleek, slim, sexy device.
No one had seen a device like this before. No one knew how successful this would be. Some of the features were buggy, and some functionality was missing (the original iPhone only worked on AT&T's network). And it carried a hefty price tag.
But Apple cofounder Steve Jobs was so confident in this product that he told his team the world would never be the same: people would talk about before the iPhone and after it. And he was right. Apple sold its billionth iPhone last summer, and continues to build on its success with new models.
The iPhone destroyed our illusions of what mobile technology was and how it could be used. It enabled everything from ride sharing apps like Uber and Lyft to augmented reality games like Pokemon Go.
The funny thing is that the one thing it doesn't do outstandingly well is make phone calls. But no one cares.
To subscribe, please click here.
Contact me to find out how to get heard above the noise
---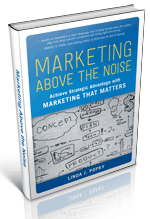 Check out the new video trailer for my book, Marketing Above the Noise: Achieve Strategic Advantage with Marketing that Matters.
---
Limited time to devote to marketing? Check out our weekly Just a Moment for Marketing videos. They only take a minute.
Let us help your business rise to the top.
linda@popky.com
(650) 281-4854
www.leverage2market.com