"We hold these truths to be self-evident, that all men are created equal, that they are endowed by their Creator with certain unalienable rights, that among these are life, liberty and the pursuit of happiness. That to secure these rights, governments are instituted among men, deriving their just powers from the consent of the governed…."

Tuesday was the 241st anniversary of the adoption of the American Declaration of Independence by the Continental Congress.
Much has changed in the years since this document was adopted–including the shape and size of this country, its place in the world, the countries of origin of its citizens, the elimination of slavery, and the establishment of voting rights for all citizens –regardless of the color of their skin or their gender.
But through thick and thin, conflict and peace, Civil War and civil rights, what's critical is how much has stayed the same. In a time of deep polarization and divisiveness, it's important that we take time to absorb the words of our founders and to apply them in our daily lives.
Read the full text of the US Declaration of Independence. 
To subscribe, please click here.
Contact me to find out how to get heard above the noise
---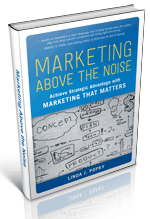 Check out the new video trailer for my book, Marketing Above the Noise: Achieve Strategic Advantage with Marketing that Matters.
---
Limited time to devote to marketing? Check out our weekly Just a Moment for Marketing videos. They only take a minute.
Let us help your business rise to the top.
linda@popky.com
(650) 281-4854
www.leverage2market.com