Last night, we went to see the Doobie Brothers and Santana at Shoreline Amphitheater, in Mountain View, CA. The concert was terrific; the experience afterwards, not so much.

What should have been a 10-15 minute process to leave the parking lot took almost an hour. For no good reason.
The uniformed employees who helped everyone park their car sat on the ground and watched as nearly 22,000 people all scrambled to get out of a single one-lane exit (when there were other alternatives nearby that were blocked off). Mountain View police circled the parking lot with lights flashing, but offered no assistance. Perhaps they were waiting to handle the road rage that might flare up in this situation.
Here's the thing. This is not Shoreline's first trip to the rodeo. The arena has been hosting 35-40 concerts every year for the last 33 years. After more than 1000 tries, you'd think they'd have figured out a better process by now. Nope.
Perhaps you've had a similar experience with mortgage loan companies. It seems like every employee assigned to your mortgage is working on the first loan they've ever seen. Maybe the process is so complicated that they all quit after one try–or maybe there's a bigger problem.
Every business has a blind spot or two regarding their product or service. It might be something you've done the same way forever, or a process that you didn't think was a big inconvenience to customers.
What are you doing to make sure your customers are not going around in circles, again and again, when they try to do business with you?
When is it time to fire a customer? Read my article.
Join me for the free online video interview series The Inspired Leadership Show: Discovering Secrets to Being an Effective Leader Through Communication, Positive Influence and Sustainable Productivity. My episode is live NOW!
Contact me to find out how to get heard above the noise.
---
Check out our marketing thought leadership podcasts and the video trailer for my book, Marketing Above the Noise: Achieve Strategic Advantage with Marketing that Matters.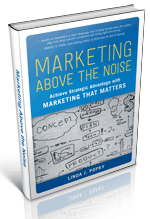 .
---
Let us help your business rise to the top.
linda@popky.com
(650) 281-4854
www.leverage2market.com