Last Friday, my dog ran out in the yard in a frenzy–some animal was capturing his attention on the other side of our fence.


Lo and behold, I looked out to find not one, not two, but probably close to 300 goats, behind a temporary fence, happily munching away on the grass that had grown on the levy in front of my house.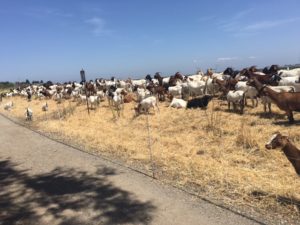 In California, we have a dilemma. Those rains we needed desperately this past winter helped our drought, but they also caused unusually high growth in ground cover and grasses. This, in turn, greatly increases fire danger during our long, hot summer.
The solution? Renting a herd of goats, who happily munch away at the overgrowth in an environmentally sound way, without requiring expensive and noisy landscaping crews. The goats are quiet, extremely efficient, and fun to watch, too. I've never seen as many people (or dogs) stop on the walking trail as I did the two days the goat feasted in our neighborhood.
What out-of-the-box solutions are you considering for tough problems that are eating up your organization?
To subscribe, please click here.
Are You Sabotaging Your Marketing Efforts? Read my new article on the 5 signs of sabotage you'll want to avoid at all costs.
---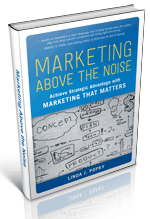 Check out the new video trailer for my book, Marketing Above the Noise: Achieve Strategic Advantage with Marketing that Matters.
---
Limited time to devote to marketing? Check out our weekly Just a Moment for Marketing videos. They only take a minute.
Let us help your business rise to the top.
linda@popky.com
(650) 281-4854
www.leverage2market.com