Monday evening, the Golden State Warriors won the NBA Championship by beating the Cleveland Cavaliers, four games to one. 

The Warriors were favorites to win the series, having come in with the best record in the league and winning all but one of their games in the playoffs, for a post-season record of 16-1.
Yet, this was not exactly a slam-dunk. Last year, the team had the best record in NBA history, was ahead 3-1 in the Finals, and still lost to these same Cavaliers.
It's what happened after last year's loss that made this year's championship possible. On the heels of that last loss, the Dubs aggressively recruited free agent Kevin Durant, who became this year's Finals MVP.
This meant the team's existing star players, including two-time league MVP Steph Curry, had to check their egos and create an environment that allowed another superstar to join in and feel part of the team. It meant they had to learn how to support each other when coach Steve Kerr was out for a good part of the season due to complications from back surgery. It meant Kevin Durant had to become part of a great team, rather than the biggest star in town.
How many times do we try to blame the competition when we lose in business–instead of looking at the situation as a challenge? How often do we stop and rethink our business model to take our team to the next level–rather than coddling the star performers?
What do we need to do to get from where we are today to Won?
To subscribe, please click here.
Contact me to find out how to get heard above the noise
---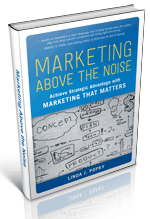 Check out the new video trailer for my book, Marketing Above the Noise: Achieve Strategic Advantage with Marketing that Matters.
---
Limited time to devote to marketing? Check out our weekly Just a Moment for Marketing videos. They only take a minute.
Let us help your business rise to the top.
linda@popky.com
(650) 281-4854
www.leverage2market.com