The 4th of July fireworks we attended following a fun San Francisco Symphony pops concert were wonderful. It was the poor customer service by Shoreline Amphitheatre personnel afterwards that was a real dud.

It took us more than an hour to get out of the parking area after the concert, because all of the parking people who had so nicely helped us before the concert had mysteriously disappeared. There were no cones or markings, nor were there directions as to which way traffic should flow or merge. It got so bad that the driver next to us turned off his car and pulled out a lawnchair to prepare for a long, long wait.
What was most frustrating was as we finally fought our way to the street, we saw a large group of parking attendants standing at the side of the road shooting the breeze. They were still on site, but ignoring customers when their help was most needed.
No matter how outstanding your product or service, you can't overcome the bad taste of poor customer service. What are you doing to make sure your customer facing employees aren't driving away business?
To subscribe, please click here.
---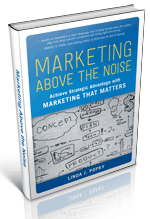 My new book, Marketing Above the Noise: Achieve Strategic Advantage with Marketing that Matters, is now available.
---
Let us help your business rise to the top.
linda@popky.com
(650) 281-4854
www.leverage2market.com