Two hundred forty three years ago, America declared its independence from Great Britain.

We've also had our share of shameful episodes: Slavery and segregation in the South, Jim Crow laws, and racism today. Internment of Japanese citizens and imprisonment of migrant children. Anti-Semitism, Islamaphobia, misogyny, and homophobia–including mistreatment of transgender people. Distrust and mistreatment of immigrants–in spite of being a nation built by and for immigrants.
In the midst of the parades and fireworks, the BBQs and celebrations, it's important that we take time out to remember the words of our Founding Fathers:
We hold these truths to be self-evident, that all men are created equal, that they are endowed by their Creator with certain unalienable rights, that among these are life, liberty and the pursuit of happiness.
Today, in 2019, the words of the Declaration of Independence still remain goals, not accomplishments. We have come far in nearly two and a half centuries, but we still have a long way to go.
When is it time to fire a customer? Read my article.
Join me for the free online video interview series The Inspired Leadership Show: Discovering Secrets to Being an Effective Leader Through Communication, Positive Influence and Sustainable Productivity. My episode is live NOW!
Contact me to find out how to get heard above the noise.
---
Check out our marketing thought leadership podcasts and the video trailer for my book, Marketing Above the Noise: Achieve Strategic Advantage with Marketing that Matters.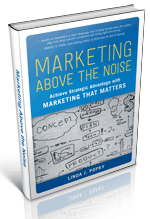 .
---
Let us help your business rise to the top.
linda@popky.com
(650) 281-4854
www.leverage2market.com