Last weekend, I was in New York, where we attended a performance of the musical Natasha, Pierre, and the Great Comet of 1812–based on Tolstoy's epic novel War and Peace.

The theatre had been transformed into a Russian nightclub–with ramps and stages throughout the audience, and audience members sitting on the stage. The action took place in 360 degree immersion–there were performers in the aisles, up and down the ramps, and even sitting down next to the audience members on the stage. 
The play itself was a little hard to follow, particularly for those of us who haven't read through Tolstoy's 1200+ page tome (I'm still not sure how about the comet reference). But the experience itself was an absolute delight. The performers each sang, danced, and played instruments. They used the entire theatre, from top to bottom, and they engaged the audience from beginning to end. It was a performance that stood out above the noise of a typical Broadway play.
What are you doing to immerse your customers in the experience of using your products and services? How can you build the kind of experience that stands out above the noise, brings a smile to their lips, and leaves them asking for an encore?
To subscribe, please click here.
Contact me to find out how to get heard above the noise
---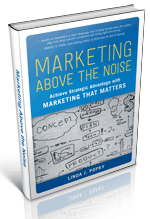 Check out the new video trailer for my book, Marketing Above the Noise: Achieve Strategic Advantage with Marketing that Matters.
---
Limited time to devote to marketing? Check out our weekly Just a Moment for Marketing videos. They only take a minute.
Let us help your business rise to the top.
linda@popky.com
(650) 281-4854
www.leverage2market.com