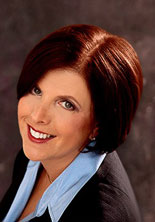 Roberta Matuson
President
Matuson Consulting
www.matusonconsulting.com
For more than 25 years, Roberta Matuson, president of Matuson Consulting, has helped leaders in highly regarded companies, including General Motors, New Balance, The Boston Beer Company and small to medium-size businesses, achieve dramatic growth and market leadership through the maximization of talent. She is known globally as "The Talent Maximizer®." Roberta is the person that top employment site Monster and global retail giant Staples turns to for advice on talent. She is the author of four books, including the recently released, The Magnetic Leader: How Irresistible Leaders Attract Talent, Customers and Profits. Roberta is one of a handful of people who have appeared as a guest of Bill O'Reilly's on Fox's O'Reilly Factor, and left the show unscathed.
In this podcast, Roberta talks about why magnetic leaders, those who attract talent to them, are so critical for successful organizations. She talks about some of the biggest mistakes she sees leaders make when it comes to leadership, and provides tips for how each of us can learn to be more magnetic.
---

Listen to this podcast.
---