On Tuesday, California joined the growing number of states including Oregon and jurisdictions that allow recreational sales of marijuana.

Estimates are that first year sales of legal cannabis-related products will exceed $3.8 billion, growing to over $5 billion in 2019. Add in 34% in taxes at the local and state levels. That's a lot of green!
Initial sales will be through dispensaries already set up for medical marijuana sales, as local municipalities determine how best to regulate new entries to the marketplace. Meanwhile, entrepreneurs are contemplating businesses to support this new opportunity.
The transformation from shunned to stunning over a relatively short time period has been incredible. But the ability to take a new potential opportunity and monetize it in new and creative ways is not surprising–it's what we do as Americans.
What intriguing nascent opportunities as lurking in your business environment? Are you prepared to act on changing rules and regulations, or evolving consumer demands? Will you be ready to take your business to new highs?
To subscribe, please click here.
Contact me to find out how to get heard above the noise
---
Limited time to devote to marketing? Check out our weekly Just a Moment for Marketing videos. They only take a minute.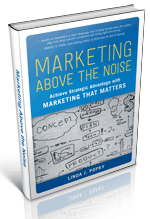 Check out the new video trailer for my book, Marketing Above the Noise: Achieve Strategic Advantage with Marketing that Matters.
---
Let us help your business rise to the top.
linda@popky.com
(650) 281-4854
www.leverage2market.com