It wasn't supposed to go down this way. Tom Brady and the Patriots were supposed to go to Minneapolis and come back with his sixth Super Bowl win.

And for a good part of the game, it looked like that might still happen. But the Philadelphia Eagles stayed the course to beat the Patriots 41-33–in spite of 40-year-old Brady setting a record for the most yards passing in any NFL game.
The Eagles' quarterback Nick Foles wasn't even supposed to still be in the NFL. He was a backup player who had seriously considered leaving the game.
Yet in spite of all of that, the Eagles came home with their first Super Bowl win and the Patriots went back to New England denied.
That's because when it comes to a single game, anything can happen. And we really should be looking at each challenge in life, whether business or personal, as a single event. Rather than focus on the past record of the opposition or why we can't succeed, we need to think about how to muster all our resources and achieve the necessary goals.
The only contest that matters is the one in front of us today. When we focus on that, we can truly soar.
To subscribe, please click here.
Contact me to find out how to get heard above the noise
---
Limited time to devote to marketing? Check out our weekly Just a Moment for Marketing videos. They only take a minute.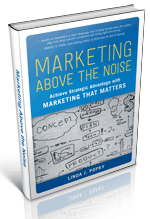 Check out the new video trailer for my book, Marketing Above the Noise: Achieve Strategic Advantage with Marketing that Matters.
---
Let us help your business rise to the top.
linda@popky.com
(650) 281-4854
www.leverage2market.com