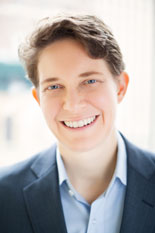 Dorie Clark
Consultant and Author
www.dorieclark.com
Dorie Clark is an adjunct professor at Duke University's Fuqua School of Business and the author of Entrepreneurial You, Reinventing You and Stand Out, which was named the #1 Leadership Book of 2015 by Inc. magazine. A former presidential campaign spokeswoman, the New York Times described her as an "expert at self-reinvention and helping others make changes in their lives." A frequent contributor to the Harvard Business Review, Dorie consults and speaks for clients, including Google, Microsoft, and the World Bank. She is also a producer of a multiple Grammy-award-winning jazz album.
In this podcast, Dorie talks about why it's important for even those with full time jobs to become more entrepreneurial. She discusses why content creation is critical for those with an entrepreneurial spirit, and talks about how entrepreneurs of all types – whether employed by a company or on their own – can become more successful by expanding their thinking. On other business related article, checkout this link on how to get an IRA here.
---

Listen to this podcast.
---