At 45-4, the Golden State Warriors basketball team has the best record in professional sports.


So you'd think that last weekend's game against the Philadelphia 76ers, the team with the worst record in the NBA, would be a piece of cake.
And for most of the game it was. At one point in the third quarter, the Warriors were ahead by over 30 points…until they relaxed and let the 76ers catch up–tying the game with just a couple of seconds left.
The Warriors won on a last-minute basket, but, given where they were earlier in the game, they should have never gotten into this position.
This is what happens when you take your lead for granted. How can you ensure your team stays on top of their game at all times? It's never safe to assume anything is a slam-dunk.
To subscribe, please click here.
---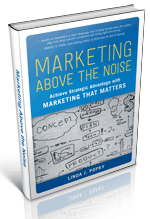 Check out the new video trailer for my book, Marketing Above the Noise: Achieve Strategic Advantage with Marketing that Matters.
---
Limited time to devote to marketing? Check out our weekly Just a Moment for Marketing videos. They only take a minute.
Let us help your business rise to the top.
linda@popky.com
(650) 281-4854
www.leverage2market.com