Last Sunday's Super Bowl was a messy event.


Neither team played particularly well, but it was what happened outside of the goal posts that was memorable.
Panthers quarterback Cam Newton was very well contained by the Broncos defense. Until he got to the post-game press conference, where his comments were not worthy of the league's MVP.
What is often remembered is not the score of the game, but how the players reacted afterwards.
To subscribe, please click here.
---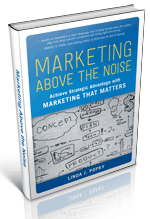 Check out the new video trailer for my book, Marketing Above the Noise: Achieve Strategic Advantage with Marketing that Matters.
---
Limited time to devote to marketing? Check out our weekly Just a Moment for Marketing videos. They only take a minute.
Let us help your business rise to the top.
linda@popky.com
(650) 281-4854
www.leverage2market.com