Last Friday, we witnessed another horrific event: a 19 year old expelled from high school returned the following day with multiple semi-automatic weapons to kill 17 people and injure 14 more.

Unfortunately, incidents of mass shootings in schools and other public places are now commonplace in this country. What happened next, however, is not.
Students who survived the attack were not placated with the formulaic "thoughts and prayers" from elected officials. They were not satisfied by second amendment proponents and the NRA who said the situation was unavoidable. They weren't content to blame the FBI for missing the warning signs on this shooter. They wanted something more: to know their classmates hadn't died in vain.
In the week since the attack, they have spoken out publicly, organized a protest in Tallahassee, and are planning marches on Washington, DC and across the country. Their message: Enough is enough. This needs to stop.
It's too soon to know if they'll be successful. But where those in charge have been stymied, perhaps our children will be able to affect positive change.  Let's hope the adults in the room take notice and follow their lead.
To subscribe, please click here.
Contact me to find out how to get heard above the noise.
---
Limited time to devote to marketing? Check out our weekly Just a Moment for Marketing videos. They only take a minute.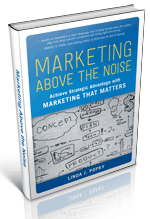 Check out the new video trailer for my book, Marketing Above the Noise: Achieve Strategic Advantage with Marketing that Matters.
---
Let us help your business rise to the top.
linda@popky.com
(650) 281-4854
www.leverage2market.com