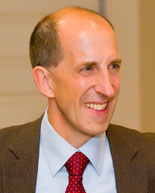 Alan Willett
President
www.oxseeker.net
Alan Willett, President of Oxseeker, is a master at transforming friction points in technology-dependent organizations into innovation and the author of the award-winning book Leading the Unleadable: How to Manage Mavericks, Cynics, Divas, and Other Difficult People. Originally a software engineer, he quickly took on management positions as a result of his strong organizational skills and commitment. At Xerox, he was part of the management team that created Xerox's first-ever digital print production system. Throughout his career, Alan has worked side by side with executives and leading experts from around the world.
In this podcast, Alan talks about why it's important for organizations to find ways to harness the energy of those people that appear to be difficult and even unleadable. He discusses why the problem is often with the leaders, rather than the employees, and tells us why organizations need friction to keep innovation alive.
---

Listen to this podcast.
---