On Tuesday evening, I had the opportunity to facilitate a panel on how organizations use their relationships with partners to get heard above the noise.


Each of the three panelists approached this differently, but each had found a way to effectively build and leverage their partner relationships–for the benefit of both the partner and the organization.
How often do we try to reinvent the wheel, when we'd be better off  engaging with those around us to collaborate on a better solution for all of us?
To subscribe, please click here.
---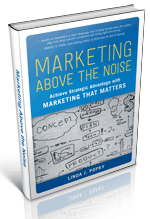 Check out the new video trailer for my book, Marketing Above the Noise: Achieve Strategic Advantage with Marketing that Matters.
---
Limited time to devote to marketing? Check out our weekly Just a Moment for Marketing videos. They only take a minute.
Let us help your business rise to the top.
linda@popky.com
(650) 281-4854
www.leverage2market.com