Last Friday evening, a fire in a warehouse-turned-artist loft/living space-turned-popup-musical-venue tragically took the lives of 36 people in Oakland, CA.

Many firefighters and first responders said the aftermath of the Ghost Ship fire was the worst situation they'd ever seen. Some bodies were identifiable only through fingerprints, personal effects, or DNA.

There appears to be plenty of blame to spread around for this tragedy–including the building owner and manager who let unsafe conditions occur, and a building inspection process that seems to ignore locked buildings that are most likely to need inspection.
This didn't have to happen. Former tenants are now saying they left because the building was unsafe. Small fires were put out by the occupants, so they didn't have to call 911 and expose the unsafe conditions inside.
The lesson for all of us: If you see something that's not right, say something. That frayed extension cord or propane tank stored indoors (both of which occurred at the Ghost Ship) are like an accident waiting to happen.
How often do we ignore situations like this because we don't want to get involved or cause a stir? Yet, how many lives could we change or save by stepping up when we see something wrong?
To subscribe, please click here.
Ready to take your marketing to the next level? Contact me to find out how to get heard above the noise
---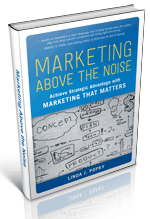 Check out the new video trailer for my book, Marketing Above the Noise: Achieve Strategic Advantage with Marketing that Matters.
---
Limited time to devote to marketing? Check out our weekly Just a Moment for Marketing videos. They only take a minute.
Let us help your business rise to the top.
linda@popky.com
(650) 281-4854
www.leverage2market.com