Today is New Year's Eve…the day we turn our back on the previous year and look with anticipation to the new year ahead.

It's a time for reflection and consideration, as well as for partying and celebration.
But rather than look at your accomplishments for 2015, I suggest you try something different.
Look forward an entire year. If we were sitting here on Dec. 31, 2016, what would success look like? What would be different? What would you and your team have accomplished? What would you be celebrating?
Once you have that vision in mind, you'll know where to focus your energies in the coming year.
Wishing you a happy, healthy, prosperous 2016.
To subscribe, please click here.
---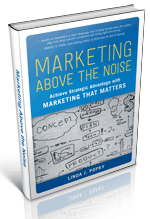 Check out the new video trailer for my book, Marketing Above the Noise: Achieve Strategic Advantage with Marketing that Matters.
---
Limited time to devote to marketing? Check out our weekly Just a Moment for Marketing videos. They only take a minute.
Let us help your business rise to the top.
linda@popky.com
(650) 281-4854
www.leverage2market.com