The Galaxy has lost its crown princess, Leia.

Actress Carrie Fisher died Tuesday morning after suffering a heart attack on-board a flight to Los Angeles on Saturday. Medics revived her but she never regained consciousness.
Princess Leia fought off Darth Vader (her father), stormtroopers, and the whole evil Empire, as she cavorted with her brother Luke Skywalker and her love, Han Solo. In the process, she inspired generations of girls to be strong and do what's right.
Off the screen, Carrie Fisher acted and edited screenplays, as she struggled with the demands of celebrity, drug addiction, and bipolar disorder. But she showed great resiliency, wit, and honesty–publishing several memoirs that  were brutally honest, funny, and to the point.
Less than 24 hours later, we lost her mother, legendary actress Debbie Reynolds possibly from the shock of her daughter's death.
As we prepare to enter a new year, we look back at all the creative, talented, and important people we've lost in 2016. We are saddened by their loss, but our world was made so much brighter by their presence and contributions. The Force was truly with them.
May the Power of the Force be with all of us as we move into 2017.
To subscribe, please click here.
START THE YEAR OFF RIGHT! Sign up by 12/31/16 for any coaching or mentoring program and get an additional month at no extra charge.
Contact me to find out how to get heard above the noise
---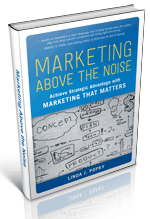 Check out the new video trailer for my book, Marketing Above the Noise: Achieve Strategic Advantage with Marketing that Matters.
---
Limited time to devote to marketing? Check out our weekly Just a Moment for Marketing videos. They only take a minute.
Let us help your business rise to the top.
linda@popky.com
(650) 281-4854
www.leverage2market.com