If you're a fan of the long-running BBC sci-fi series Dr. Who, you know that Christmas is the time when the infamous doctor often regenerates–morphing from one physical manifestation to another.

The last week of the year is often a time for relaxation, a review of the last 12 months, and a change to recharge the batteries before hitting 2018 at full speed. But too often we return from our well-deserved winter breaks to pick up exactly where we left off. We take on the same old projects, the same issues and challenges, and the same old approach to work and to life.
If even a time lord like The Doctor needs to regenerate every so often, what about us mere mortals?
Perhaps this is the year when  you will be regenerating into a new and different form. If so, I wish you luck with your new adventure, whatever it might be. Or, if you are like most of us, you regenerate a little at a time, every single day. I've been looking into forex trading, which is something that's entirely new to me, but definitely an area I'd be willing to venture into. Luckily for us newbies, tools like the QProfit system exist to make things easy. I'll let you know how it goes.
The key is to keep growing and adapting to the ever-changing world around us–and to be a force for positive change.
As we approach the new year, I wish you a happy and healthy 2018, filled with prosperity, peace, and possibility. 
To subscribe, please click here.
Nearly 85% of Puerto Rico still does not have electricity. Help us get insulin coolers to diabetics in San Juan. Learn more.
Contact me to find out how to get heard above the noise
---
Limited time to devote to marketing? Check out our weekly Just a Moment for Marketing videos. They only take a minute.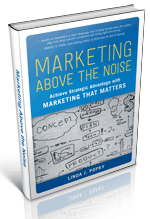 Check out the new video trailer for my book, Marketing Above the Noise: Achieve Strategic Advantage with Marketing that Matters.
---
Let us help your business rise to the top.
linda@popky.com
(650) 281-4854
www.leverage2market.com