If it seems like the holiday season has turned into one continuous stream of package deliveries, that's because it has. 

It's not that people aren't shopping this season–they're just not shopping at the mall. A record 1.2 billion packages will be delivered by Fedex and UPS during the two month holiday season. Amazon alone may account for nearly a billion packages worldwide.
The problem for a business frantically fulfilling mail order or internet orders is that the fate of your products–and perhaps your business–may lie in the hands of seasonal delivery people who don't know where they're going (or what they're doing)…but are out there doing it anyway.
Your customers' experience is dependent on how well these third party delivery services do their job–because they control the "last mile" to consumers' homes. No wonder Amazon and Target are both looking at ways they can control the delivery process.
You may not be able to replace UPS or Fedex… but in what other places are you delegating the final interaction with a customer to a third party? Should you maintain better control of those critical interactions?
Don't let the last mile become the end of the road for your business.
To subscribe, please click here.
Nearly 85% of Puerto Rico still does not have electricity. Help us get insulin coolers to diabetics in San Juan. Learn more.
Contact me to find out how to get heard above the noise
---
Limited time to devote to marketing? Check out our weekly Just a Moment for Marketing videos. They only take a minute.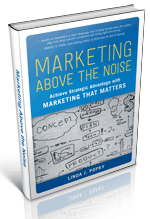 Check out the new video trailer for my book, Marketing Above the Noise: Achieve Strategic Advantage with Marketing that Matters.
---
Let us help your business rise to the top.
linda@popky.com
(650) 281-4854
www.leverage2market.com