On Tuesday evening, the voters of Alabama shocked the country by rejecting Republican Roy Moore and electing a Democratic–Doug Jones–to the U.S senate for the first time in 25 years.

Moore was a polarizing candidate from the start, with a history of racist and homophobic stands–not to mention an ongoing attraction to young teenage girls that got him banned from the local mall.
As a Democrat, Doug Jones faced an uphill challenge throughout the campaign. What pushed him over the finish line was the turnout of voters who didn't want someone of Moore's character representing their state. The largest group that came out to defeat Moore were African-American women–a group not known for regularly coming out to the polls, particularly in an off-year election.
What happened in Alabama on Tuesday clearly shows the value of showing up. Too often, people choose not to engage in an issue that's important to them–whether it's because they don't feel they'll be heard, or perhaps it doesn't seem worth the time and effort.
But it's only when we show up about issues we care about–in our personal lives, in business, and in society in general–that real change occurs. When we look the other way, problems are allowed to fester.
When it comes down to it, we need to say, here I am, be present, and show up.
To subscribe, please click here.
Nearly 85% of Puerto Rico still does not have electricity. Help us get insulin coolers to diabetics in San Juan. Learn more.
Contact me to find out how to get heard above the noise
---
Limited time to devote to marketing? Check out our weekly Just a Moment for Marketing videos. They only take a minute.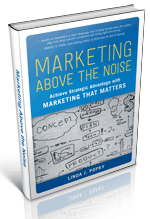 Check out the new video trailer for my book, Marketing Above the Noise: Achieve Strategic Advantage with Marketing that Matters.
---
Let us help your business rise to the top.
linda@popky.com
(650) 281-4854
www.leverage2market.com