Last week, President Trump urged police officers to use additional force if necessary when arresting suspects. Two days later, a White House spokesperson said she thought the comment was made as a joke.

Police departments across the nation didn't see the humor. Many are already dealing with allegations of excessive force used in arrests, and some face lawsuits based on deaths of suspects while being arrested or in custody. These type of comments just make their jobs harder, as it results in less trust and cooperation between law enforcement and the people they are sworn to protect.
But the use of humor to justify an inappropriate comment is not limited to the White House. It's not unusual to see a politician, celebrity, or even a business leader back off a controversial position by saying "I was just joking."
The problem is that humor is based in at least a kernel of truth. The reason we laugh at a good standup comedian is because we see the truth in what they're mocking (and it's usually themselves, not others).
Humor is a great communication tool. I love a good pun as much as anyone. But be careful how and where you use humor in your business. The best humor is self-deprecating–it shows you don't take yourself too seriously. Be wary of comments that attack others, even in jest. The results will likely not be very funny.
To subscribe, please click here.
Contact me to find out how to get heard above the noise
---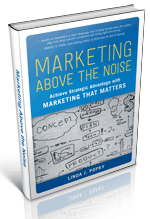 Check out the new video trailer for my book, Marketing Above the Noise: Achieve Strategic Advantage with Marketing that Matters.
---
Limited time to devote to marketing? Check out our weekly Just a Moment for Marketing videos. They only take a minute.
Let us help your business rise to the top.
linda@popky.com
(650) 281-4854
www.leverage2market.com