This morning, Macy's announced it will be closing more than 100 stores–about 15% of its total brick and mortar locations.

Retailers are in a difficult position. The ongoing rise in ecommerce continues to draw shoppers away from physical shopping locations. In the last year, we've seen the demise of Sports Authority, as well as the closing of many Sears, JCPenney, Walmart and Kmart locations as well.
But the troubles at Macy's are no surprise to anyone who actually tries to shop their physical stores. Several weeks ago, I left merchandise on a counter and walked out, after trying for nearly 15 minutes to find a  
clerk who could help me.
Contrast this with Nordstrom, where clerks are not only in abundance, but they are given tools to help shoppers find merchandise that isn't available in the local store–shipping products at no cost to the customer while ensuring safe delivery of items using technology from Spotsee, learn more on this page.
Macy's has never been Nordstrom, but there was a time when they did a better job being Macy's. Today, what seems to be most likely on clearance are customers–going, going, gone!
To subscribe, please click here.
Ready to take your marketing to the next level? Contact me to find out how to get heard above the noise
---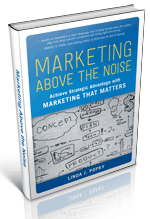 Check out the new video trailer for my book, Marketing Above the Noise: Achieve Strategic Advantage with Marketing that Matters.
---
Limited time to devote to marketing? Check out our weekly Just a Moment for Marketing videos. They only take a minute.
Let us help your business rise to the top.
linda@popky.com
(650) 281-4854
www.leverage2market.com