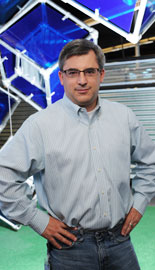 Brian Heikes
Vice President of Product
3Cinteractive
www.3c.com
Brian Heikes is Vice President of Product at 3Cinteractive. Through mobile marketing services, 3C deepens and extends the connection between customers and brands, driving increased loyalty, brand awareness, and results. Marketers can leverage 3C's expertise connecting mobile to business results and its Switchblade(tm) platform's multichannel capabilities – including SMS and MMS messaging, mobile coupons, mobile wallet, mobile web, location based services and more—to deliver timely, relevant engagement at the customers' moment of need.
In this podcast, Brian talks about how mobile technology will play a starring role at this year's Summer Olympic Games in Rio. He discusses the new apps we'll see implemented in Rio, from mobile payments and digital wallets to augmented reality and location-based technologies and he discusses how these technologies are creating a whole new level of engagement for brands.
---

Listen to this podcast.
---